E-commerce expert from HELLMUT RUCK takes 2nd place in the E-Retailer of the Year 2021 competition
apollon congratulates Cindy Kroszewski (formerly Grasmüller) on the award
apollon, leading software provider for marketing automation and product data communication, has nominated the e-commerce expert of its customer HELLMUT RUCK GmbH for the award E-Retailer of the Year 2021 and congratulates Cindy Kroszewski, Head of E-Commerce at HELLMUT RUCK for the 2nd place. The annual award honors outstanding personalities of online, mail order and cross-channel commerce.
The E-Retailer of the Year is an annual award for outstanding e-commerce minds in Germany. The cross-media People Award recognizes store operators who have stood out in the past twelve months for their innovation, creativity, courage, idealism and unusual ideas. The award is organized and presented by bevh, the German E-Commerce and Distance Selling Trade Association, in cooperation with the renowned editorial teams iBusiness, ONEtoONE and Versandhausberater. The nomination is based on a submission of potential e-retailers and their online stores, which are determined in a shortlist by public voting after a pre-selection by the jury.
This year, 42 German-speaking e-commerce experts made it onto the shortlist for E-Retailer of the Year 2021 and were available for selection by the editorial teams' approximately 76,000 users. Also present was Cindy Kroszewski, formerly Grasmüller, of long-time customer HELLMUT RUCK. Due to her e-commerce expertise, which is reflected in her online stores, Cindy Grasmüller made it to second place and was named the second best e-retailer of 2021. First place went to Katharina Gillesberger, Head of Digital Marketing at BayWa.
As Head of E-Commerce at the leading specialist wholesaler for foot care, cosmetics and wellness, Cindy Kroszewski is responsible for the distribution of RUCK's foot care product lines via several web stores. The online stores have had their finger on the pulse for years in terms of technology and creative design. In addition to Online Media Net, as a PIM and DAM system for product data communication, the 3D configurator also contributes to an advanced online store from RUCK. With the help of the 3D configurator, RUCK customers are able to individually configure and purchase practice equipment such as cabinets, chairs and special furniture in the online store. The special feature of the furniture configurator is that all equipment variants are rendered and visualized in real time. As a result, the customer experiences a better quality of advice and incorrect orders with incoming returns are drastically reduced.
"I believe that in the B2B business, too, or perhaps especially here, it is service. In my view, the optimal handling of returns, complaints and customer questions is elementary. We still have a lot of catching up to do here because of the structures that have grown up. I also believe in data and the systems behind the purchasing channels – a topic that no one in e-commerce finds sexy. But when I see the new possibilities that the conversion of our PIM system has opened up for us, for example, and the many ways in which we benefit from this (visibility on Google, product findability via search, and much more), then this confirms my assessment that these systems are sometimes more important than what the customer sees on the front end. I also believe that it's the interaction of the various channels – omnichannel marketing and customer journeys – that makes a successful retailer., so Cindy Kroszweski, Head of E-Commerce at HELLMUT RUCK
Norbert Weckerle, CEO at apollon: "We are very happy that we nominated Cindy Kroszewski as E-Retailer of the Year 2021 and even more happy that she won the 2nd place. Congratulations again at this point. That is a special achievement to prevail against 41 candidates*, considering that the competitors were top specialist lights from Amazon, Douglas or Bergzeit. Awesome and chapeau dear Cindy!"
The interview with Cindy Kroszewski and the editorial team of High Text Verlag can be found here: https://apollon.rocks/3khguns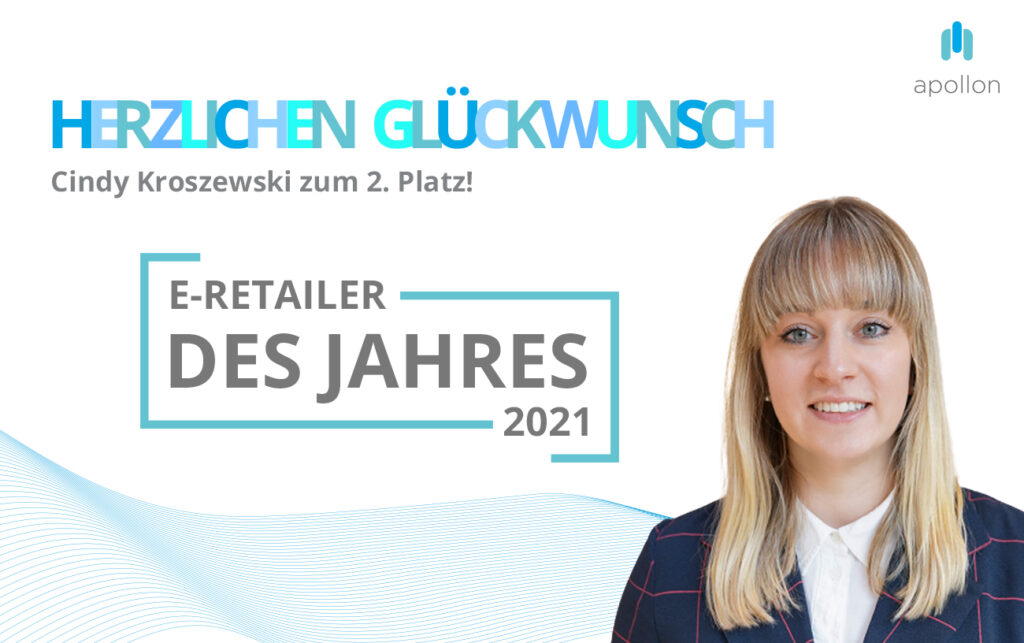 Yasemin Czechowski
Marketing Manager
Phone: +49 7231 941-133
E-Mail: yczechowski@apollon.de

apollon GmbH+Co. KG
Maximilianstr. 104
75172 Pforzheim
www.apollon.de