What is a DAM system?
Make your content locatable
If you create good content (images, documents, etc.) but cannot develop it to the fullest, because your content is difficult for others to find or not available when needed, then you should check out DAM systems more closely. DAM stands for Digital Asset Management. The main task of DAM is to manage digital content in the best possible, redundancy-free quality and to pass it on to people or connected systems as required. The prerequisite is that the digital content or media assets are stored centrally and media-neutrally. DAM is also known as MAM, short for Media Asset Management. If the main focus of the managed files is on videos, it is also called Video Asset Management (VAM).
WHAT IS A MEDIA ASSET?
---
Media asset is a generic term for any digital media type. In detail, a media asset can be an image, a photo, a graphic, a chart, a video or audio file, a text module but also a whole document (Indesign, PDF, Word, PowerPoint etc.). Theoretically, any content with information content. Characteristic of any media asset is that it is subject to a creative creation process. This creative process can be a photo shoot by the photographer, the creation of a promotional video by marketing, or a chart by the graphic designer.
WHY IS A DAM SYSTEM NEEDED FOR
DIGITAL ASSET MANAGEMENT?
---
Everyone who has created content knows the problem well: it is no longer possible to find high-quality media assets or, if they are found, they are required to be in a different format or in a different resolution. This leads to delays and additional costs, especially if the media assets have to be recreated. At the same time, digitisation promotes a rapid increase in digital content, which can quickly lead to an impenetrable content muddle (topicality, licensing, variants, etc.).
The entire set of media assets need to be effectively organised so that they can be made available to all process participants (people and systems). This effectively means that the media assets must be available in a central location that is easily accessible at all times. And this is where traditional folder structures on the servers fail. Because colleagues from product management, for example, may not have access to the marketing folder or vice versa. A folder also has no interface to record content on systems, such as an online shop. In addition, it is not possibly to simply search for visual image information, unlike a text document.
An image is comparable to a tin can – without a meaningful label on the outside (for example, corresponding file names or metadata) you cannot see what is inside it. In a digital context, this means that without a visual examination of the content, no conclusions can be drawn about it, because it only becomes clear through looking at an image which people, objects, products, moods or backgrounds are depicted in it.
On the other hand, if you are looking for not just one image, but all images which contain a specific motif, this can quickly become a Herculean task. Once the hurdles in research have been overcome, the question remains as to what the right format or the right resolution is, because not every channel can have the same files. In summary, it can be said that, given the abundance of media assets, it is simply no longer possible to use a traditional filing structure with manual screening and it is even less financially viable. This is exactly where DAM systems come into play. They create a central platform with media-neutral files that is always accessible and offer reliable support for efficient research and use of media assets.
WHAT IS A DAM SYSTEM, IN DETAIL?
---
DAM systems are primarily databases. Hence the somewhat outdated expression "image or media database". In addition to the central and structured management of media assets, the main tasks of a DAM system also include standardised imports and channel-specific exports. In order to enable a standardised import, the stored data is enhanced with comprehensive information or metadata. This metadata helps to classify and describe the stored data. The metadata is important for ensuring data standards and for simplifying later research for content. n order for data to be exported properly, a DAM system keeps all media assets media-neutral.
Depending on the intended use (print or online), the required file can be outputted in various formats and resolutions – regardless of whether it is a direct download or an automated transfer to supplementary systems (such as the PIM system or online shop). For example, if a sales representative wants to incorporate a customer's logo into their presentation, they simply need to choose the "Online" edition. This is taken into account during the export, and the sales colleague will receive the logo converted for screen presentations in the RGB colour mode. It is therefore not necessary to make any additional format adjustments after exporting the logo. This means that even employees are able to use content properly without requiring the image processing solution (for example Adobe Photoshop) or knowledge of this.
Some DAM systems are even able to optimise images and photographs during import (for example, by removing "image noise") and immediately save them correctly. DAM systems also form the basis for integrated solutions such as editorial and content management systems, PIM applications or web-to-print solutions and automatically supply these third-party systems with the correct assets. The digital content is provided via an interface in online shops, on landing pages, e-commerce platforms, on one's own website or in social media channels.
WHAT IS MANAGED IN THE DAM SYSTEM?
---
Image
From Windows Bitmap (BMP) to Encapsulated Postscript (EPS, EPSF, EPSI, EPT) to GIF, JPEG, JPG, PSD, PTIF, TIFF and TIF.
Graphic
From Adobe Illustrator (AI) to Adobe InDesign CS/CS2/CS3/CS4 (INDD) and QuarkXPress (QXP).
Video
From AVI to Flash Video (FLV), Windows Media Video (WMV), QuickTime (MOV, MP4), Video Object (VOB), MPEG-4 and many more.
Audio
From MP3 to PCM, WAV, AIFF or DSD, FLAC, ALAC, MQA and WMA.
Documents
From Microsoft (DOC, PPT/PPS, XLS, XLW) to PDF and Apache OpenOffice (ODP, ODS, ODT).
3D model
From COLLADA to FBX, gLTF, OBJ and STL.
WHAT IS METADATA?
---
Metadata is structured background information about files that is machine-readable and analyzable. In a DAM system, they serve as information brokers in the search, retrieval, and archiving of media assets. To do this, they add data and descriptions to the standard information of a file (name, size, creation date, etc.).
The goal is to optimally describe the contents of a file. In the case of a photo, the standard information would be, for example, the date of creation, the location or information about the camera – technical primary data without any statement about the content. To ensure that the actual content depicted is recognizable, i.e. whether the photo is of a person, a product or an object and what mood, color, pattern is being depicted, content-describing metadata is added to the photo. Even text in the image can be described using metadata.
But also information about versions, rights, licenses and permission to use or reproduce the photo can be mapped with metadata. Metadata is essential for DAM systems. And the possibilities to make files visual with this are manifold. Therefore, the metadata to be captured in DAM systems is often tailored to the individual needs of the user.
WHAT IS THE ADVANTAGE OF DAM SYSTEMS?
---
The big advantage of DAM systems is the media-neutral data centrality. This not only provides an overview of actually existing and released files, but these can also be accessed from anywhere and at any time – via the web and without system requirements. At the same time, a DAM system enables intelligent indexing and structuring of the files for an efficient search and reliable provision to individuals or third-party systems. Because customers want to see the content on offer immediately, whether for informative purposes or for entertainment.
The best content is of no use if it goes to waste in the hands of the creators and is not visible to potential customers. DAM systems therefore not only provide speed in communication, but they also ensure the use of the correct digital content by safeguarding data standards during import, administration and output. Incorrect formats, obsolete versions, duplicates which use up space, different variants, penalties for copyright violations or even the renewed creation of materials are a thing of the past with DAM systems. In the wake of digital transformation, DAM systems also form an integral part of digitisation measures.
HOW CAN YOU ORGANISE YOUR MEDIA ASSETS IN THE DAM SYSTEM?
---
TAGS
The media assets are provided with precise keywords (tags) and are indexed.
CATEGORISATION
The media assets can be assigned to different categories or topics.
STRUCTURING
The media assets can be stored in different folder structures.
COLLECTIONS
Individual collections can be created regardless of the categories or folders.
DO YOU REALLY NEED A DAM SYSTEM?
---
ADVANTAGES OVER CMS, SHAREPOINT AND DROPBOX
First of all: Yes. A content management system (CMS) is also a digital content system in the broadest sense, but unfortunately it is only partially suitable for managing media assets. The main task of CMS is to publish editorial content on websites, blogs or online stores. The media assets are supplementary media to the texts and are not the focus of content management systems. For this reason, media assets in CMS are not kept output-neutral, but are prepared for specific channels. Also, Microsoft Sharepoint is not the same as DAM systems.
It is true that digital content can also be stored and shared in Sharepoint, but only in folder structures and this in the pages and sub-pages intended for this purpose. For example, the content created may not be available globally because it is located in certain sub-pages or department pages to which you do not have permission or even know of its existence. Another point is that Microsoft Sharepoint only manages the content created, which is also channel-specific, and does not allow any format conversions. The situation is similar with Dropbox, which is also "only" available as a storage space for digital content.
In summary, neither a CMS, nor Microsoft Sharepoint or Dropbox, can map the depth and functions of a DAM system and provide the main function of media-neutral storage and effective search.
AND HOW DO YOU FIND THE RIGHT DAM SYSTEM?
Is your digital content increasing rapidly, and are you aware that you can only master your enormous number of assets with a DAM system? Congratulations on making this decision. Now all you have to do is find the right DAM system for you. Here are seven tips to help you quickly find your DAM frontrunner:
1. On-Premise vs. Software on Demand
When choosing your DAM system, you should consider whether you want to host it yourself or use it as a service through the provider. With your own hosting, the application is operated on your own, local servers, which means that you are also responsible for the maintenance of the server. Alternatively, you can also use Software on Demand or Software as a Service (SaaS). Here, the responsibility for the application lies with the provider, including all the maintenance work and required storage capacity. In this case you only need the Internet and a browser to use the DAM system. There are also providers who can operate their DAM system in both models or even offer a combined solution if you should require this.
2. Open source vs. commercial software
DAM systems are fully effective if they communicate with other systems such as a PIM or a shop system in an integrative way. When working in combination with other commercial applications, it can therefore be difficult to integrate the systems if you choose an open source DAM solution. The warranty and support services that are usually not included in open source solutions should also be critically examined, because, at the end of the day, the DAM system manages your valuable content, which you use to provide your customers with unique experiences.
3. Future-proof functional scope / functional expandability
A DAM system should fulfil all the functionalities required, so that you get a comprehensive solution that you can start to use immediately, instead of investing in additional functions for which you have to pay a fee. At the same time, you should make sure that your DAM system moves with the times. Technological developments, for example, in the field of artificial intelligence, should not be some future dream, but a natural part of the application or upcoming developments within the framework of the product roadmap.
4. Interoperability and interfaces
Product communication is extremely important for manufacturing and trading companies. In order to optimally present the range of goods on offer, not only the product information but also the right images need to be available. The DAM system always provides these images. Therefore, when choosing your DAM system, you should not look at it separately, but always in conjunction with other systems such as ERP systems, PIM systems or online shops. In particular, it is essential to ask two questions: "how should my future DAM system receive the assets?" and "on which systems should my assets be used?". Get an idea of your IT system landscape and analyse which interfaces you need in advance. This means that you can directly query the interoperability of the DAM system and find out about the connection standards.
5. Multilingual context
If you offer your products on international markets in different languages, then you should ensure that your DAM system offers you the opportunity to use images and media regardless of the language. In this way, you ensure that consumers are shown your range of products in the catalogue or web shop in the language that is right for them. System-supported variant and version management is essential and should form an integral part of your DAM system.
6. Advice and consulting
A DAM system is "a form of software" for digital transformation, because the digitisation of marketing requires additional special applications. Therefore, when choosing your DAM system, you should pay attention to whether the provider is purely a DAM provider or whether it also offers complementary software solutions. In the latter case, the advantage for you is that the respective systems harmonise perfectly with one another, you are saved the cost of system connections and you enjoy great flexibility for future system expansions.
THIS IS WHAT THE OMN DAM SYSTEM LOOKS LIKE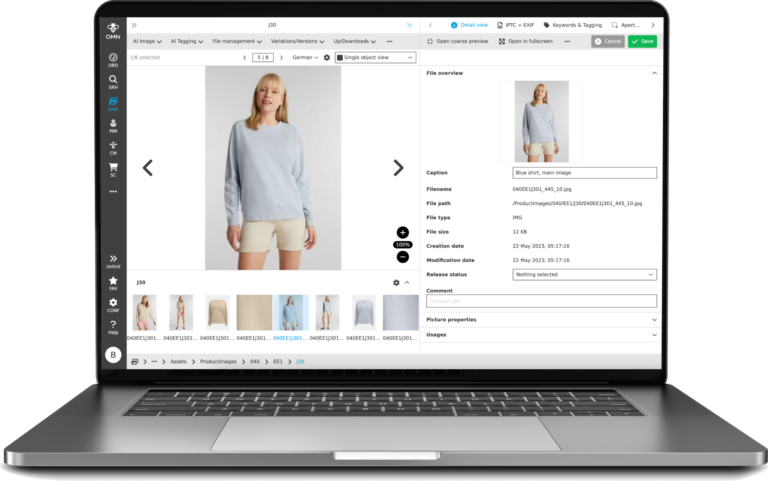 STILL QUESTIONS?
---
#KNOWLEDGETOGO: EVERYTHING YOU NEED TO KNOW ABOUT DAM
Is MAM the same as DAM? Tobias Marks brings light into the darkness. Concisely brought to the point, according to the motto #KnowledgeToGo!
Trendletter
Don't want to miss any news?
Then sign up for our trendletter.