apollon grants power of attorney to two additional executives
Matthias Dannecker and Ulf-Lennart Kurschel new authorized signatories
apollon, leading software provider for marketing automation and product data communication, grants Matthias Dannecker (Director Professional Services) and Ulf-Lennart Kurschel (Teamleader Project Development) power of attorney.
apollon expands its management team. In addition to Johannes Haas (Director Consulting/Productmanagement) and Oliver Baum (Director OMN Product), who have had procuration at apollon since 2015, Matthias Dannecker and Ulf-Lennart Kurschel are now also appointed as authorized signatories.
Matthias Dannecker (35) began his career at Meyle+Müller on March 16, 2009 as a workflow manager in the process optimization team in the media production area. At that time, his focus was on various internal optimization projects to automate, accelerate and secure processes in the media environment. Due to his experience in project management within the team, Matthias Dannecker has carried out more and more print projects in connection with Online Media Net (OMN). In the course of the apollon spin-off, Dannecker became team leader of the Crossmedia Publishing team. Since 01.01.2019, he has been responsible for various OMN projects for well-known customers from the industrial and automotive sectors as Director Professional Services of an ever-growing team. Since 2020, Matthias Dannecker, as Director Professional Services and member of the Executive Board, has also been strategically involved in the further development of the company's processes with a focus on project development, digital asset management and cross-media publishing, in addition to the previously listed consulting and project management functions.
Ulf-Lennart Kurschel (35) studied computer science at the University of Paderborn. Directly after his studies, he started his career on 01.08.2013 at Meyle+Müller as a technical project manager and software developer in the IT Media division at the Bad Salzuflen site. His tasks included the installation of Online Media Net with the modules DAM, PIM, Channel Management and Workflow Management as well as the migration of existing systems to the latest version of Online Media Net. Likewise, Kurschel was responsible for the testing, planning, development, implementation and quality control of Java applications according to customer-specific requirements, as well as working with Oracle databases and third-party frameworks. Ulf-Lennart Kurschel joined apollon on 01.01.2015 and was appointed team leader of the Project Development team at the Bielefeld site on 01.01.2017. His experience, especially in the PIM field, makes Kurschel a PIM expert. Thus, he is heavily involved in the development of OMN PIM and shares responsibility for it. He also provides consulting services for many PIM projects.
Norbert Weckerle, CEO of apollon, comments: "With the two additional colleagues at the top of the management team, we are well positioned for the future. I am delighted for Matthias Dannecker and Ulf-Lennart Kurschel and would once again like to express my thanks to all our authorized signatories for their high level of commitment and successful work."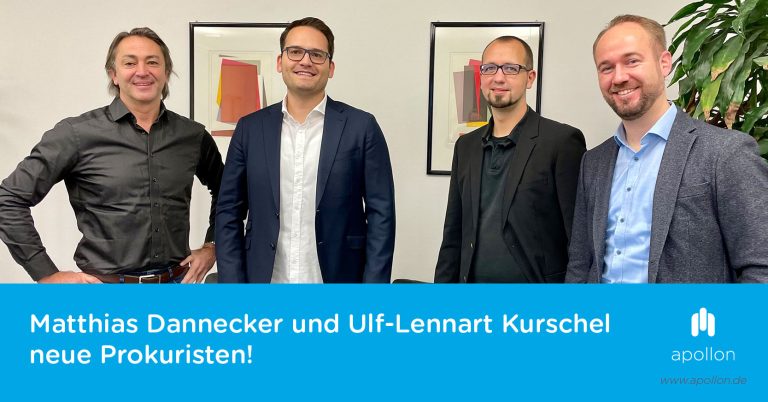 Yasemin Czechowski
Marketing Manager
Phone: +49 7231 941-133
E-Mail: yczechowski@apollon.de

apollon GmbH+Co. KG
Maximilianstr. 104
75172 Pforzheim
www.apollon.de